Hanuka (Hanukkah / Chanukkah) is only a few days away! In 2014, it begins the night of Dec 16th.
Are you ready? Here's a Hanuka checklist with things you'll need.
Each of the major Jewish websites has its own big Hanuka page with their own links. My favorite is Chabad's, because it has quite literally something for everyone –halacha, FAQ, how-tos, recipes, multimedia, kids… Aish also has a good one, complete with more recipes, videos, and kid's fun. Torah.org has a decent selection as well.
Looking for a video lesson in latkes? Dying for delicious donuts? You can find video lessons for the kids (or yourself!) in making olive oil and see a Hanuka candle factory! Are you checking out crafts? Look on my Hanuka Pinterest board for more great ideas!
Choose from 50+ Hanuka videos in the Chabad multimedia section (including an astronaut's Hanuka!). There are lots of Hanuka videos on Youtube, like the Maccabeats Miracle and Candlelight, the Fountainheads' Light up the Night, and even an Elmo Hanuka segment and a Telly dreidel segment. Here are my favorite Hanuka books.
Here is a great link to free Jewish holiday music. (It's from the Judaica Sound Archives – there are other holidays there, too, but you can choose what you'd like to listen to.) There are some good Hanuka albums there, including modern and very old options, in English, Hebrew, or Yiddish, Israeli, Chassidic, or Sephardic, children's or adults', etc.  You can find more music here, too. There is also a lot of Hanuka music on Amazon (to buy), like this with songs in English, Hebrew, Ladino, and Yiddish.
Jennifer over at Adventures in Mama-Land has a great list of online Hanuka ideas, too. There is also a Hanuka recipe blog party from 2012. (Yep, I contributed my famous Mom's Sour Cream Cookies recipe!)
Coloring pages for the holiday can be found at aish, chabad, and cookkosher as well as throughout the web–just google (or even better, Swagbucks) it!
Project ideas:
a felt menorah–allow the kids to "light" felt candles with felt flames (or they can cut and paste with paper)
a
hand menorah
–put the child's hands with their thumbs touching, take a print–the double-wide thumb is the shamesh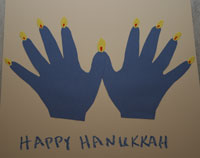 a laminated menorah
printed on a regular sheet of paper- let them decorate it with playdough or dry-erase markers (it erases easily)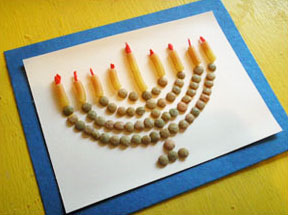 Maccabee shields–cardboard, cut and decorated (my boys love these, but ours don't last very long because the kids also make Maccabee swords out of sticks, straws, or whatever else they can find.)
You're probably using lots of potatoes – why not carve some potato stamps to dip in paint and stamp?
cookies – whether you make them into "gelt" or just eat them, kids love cookies (some ideas here)
beeswax candles– buy a kit and roll the wax sheets around the wick. We make some to use in our family menorah each year
candles- buy a dipping kit and dip some candles!
play dreidel
Make edible dreidels (Or with blue sugar rolled marshmallows, chocolate kiss bottoms, pretzel stems, or chocolate dipped marshmallows, or whatever your heart desires!)
learn some Hanuka songs, either singing or on a musical instrument, and sing or play while the candles burn
Make a fun kids' menorah – for example, "glue" marshmallows to some cardboard with frosting, chocolate, or corn syrup and "light" them with birthday candles or pretzels and an appropriately colored m-n-m (stuck on with frosting).
Even Martha Stewart is getting into the Hanuka crafting fun!
Here's a list of some good kids' Hanuka books.
What are you planning for Hanuka? We're decorating the house with some of the kids' art, making some more, and playing dreidel. We're also frying up latkes and sufganiyot for the holiday, but they are straight recipes with nothing other than their rarity exciting about them. We have several nights with friends coming up, but no formal party this year. Just lots of cookies and latkes for ourselves, I guess! 😉